Waka Kotahi NZ Transport Agency's regulatory team has recently advised two new additions to the list of seat belt re-webbing service providers. The environment where seats belts are used in the truck cab can be particularly demanding on the webbing integrity so it is useful to have available services approved to replace the webbing when it falls below manufacturers' specifications.
The full advice from waka Kotahi is set out below:
"Two new companies have been added as exempted seatbelt re-webbing organisations. Technical bulletin 16: Seatbelt repair and re-webbing has been updated to include these companies and how to identify them on re-webbed seatbelts.
This is so that vehicle inspectors can easily identify seatbelts that are compliantly re-webbed and those that are not. Seatbelts that are not re-webbed by an approved repairer are likely to be unsafe.
There are now four companies exempted to re-web seatbelts:
• APV Australia
• Autosafe Ltd, Christchurch
• Belt Tech NZ Ltd
• Seatbelts NZ Ltd.
The changes are highlighted in the screenshots below.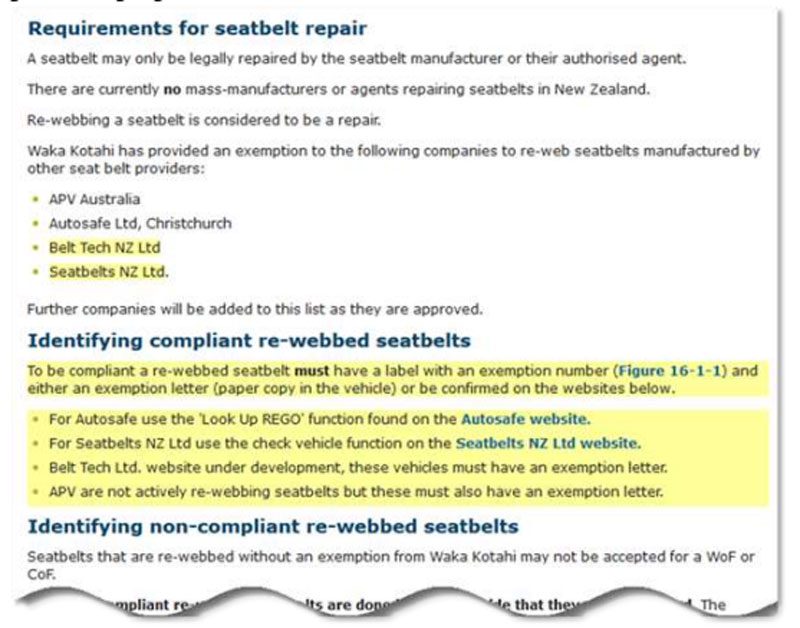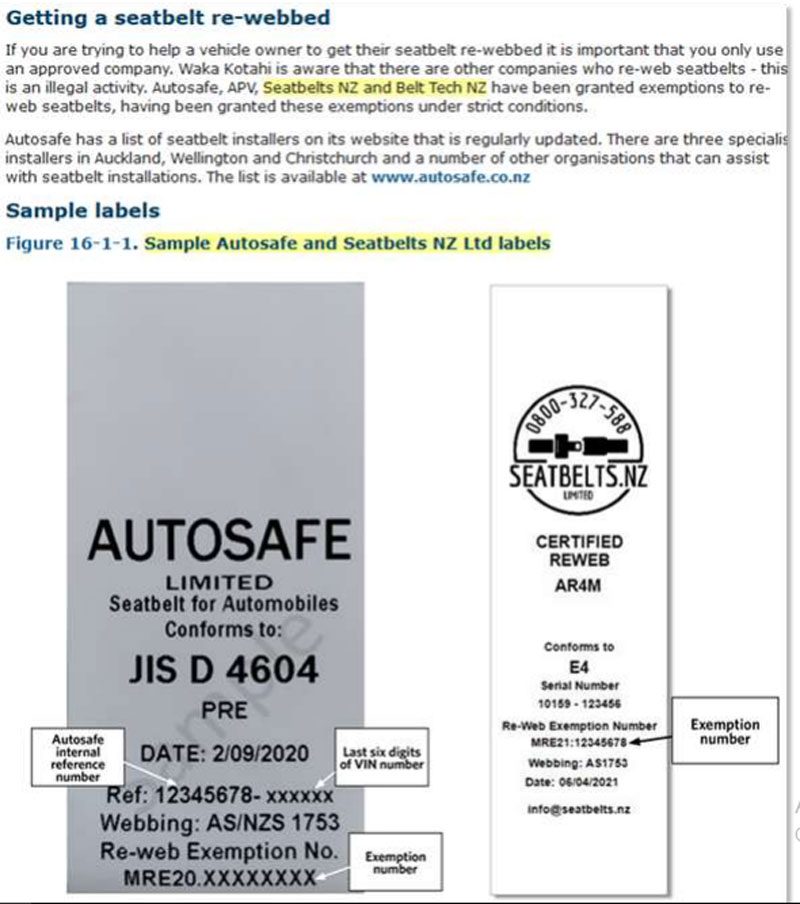 This addition is in effect immediately. Members with queries should reply to the email below if there are any questions.
Vehicle Standards team, System Integrity
Te Roopu Waeture| Regulatory Services
Email: vehicles@nzta.govt.nz
Waka Kotahi NZ Transport Agency
Chews Lane Office, 50 Victoria Street
Private Bag 6995, Wellington 6141, New Zealand
Please note: The content of this Advisory has been issued to inform members of Transporting New Zealand. It is for road freight transport industry circulation, not for media publication. It can be forwarded in its entirety to members of Transporting New Zealand. It cannot be reproduced, or printed in parts, under any logo other than Ia Ara Aotearoa Transporting New Zealand's logo, without written permission from Transporting New Zealand.